PB Co. PROPOSED CONSTRUCTION PROJECTS IMPACT
ON RESIDENTIAL COMMUNITY IN DEL MONTE FOREST
---
Fifth in a series of reports with important facts about how these
proposed development projects will impact the residential community
---
Report No. 5 -- The Lodge at Pebble Beach Major Expansion Plans
• Addition of 63 new hotel guest units:

° Fairway One Complex: removal of existing 5-unit structure and construction of new building with 43 new guest hotel units, dining room and prep kitchen and new 151-space underground parking garage

° Colton Building: construction of a new 20-unit guest hotel building (located between existing guestroom and Casa Palmero Complex)


• Renovation and expansion/addition of existing meeting rooms in The Lodge building.

• New two-level 224-space underground garage (at location of existing surface parking lot south of existing Townhomes and west of the existing gas service station). This construction may be deferred until all other building changes and additions are completed.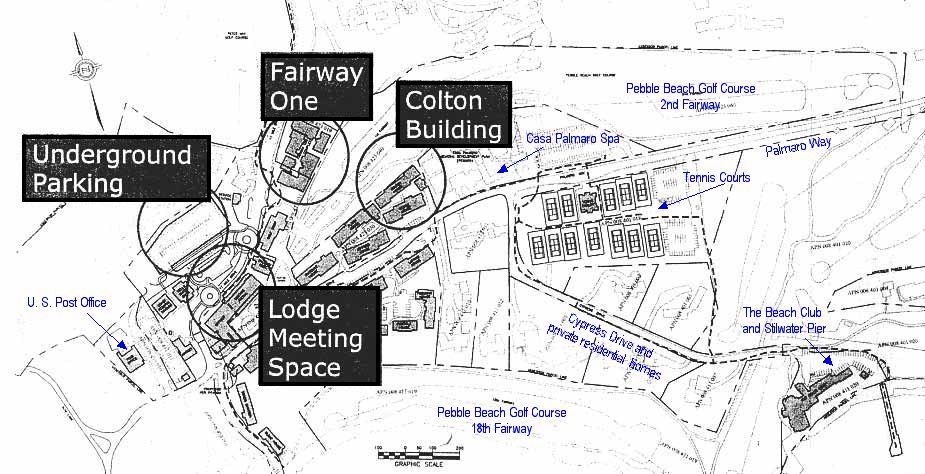 | | |
| --- | --- |
| | |

• HOME PAGE • LINKS • PEBBLE BEACH DEVELOPMENT • MONTEREY COUNTY • COASTAL COMMISSION •
• ACTION ON MEASURE "A" • LAND USE PLANS • PUBLIC HEARINGS • SCENIC EASEMENTS • WATER ISSUES •
• EDITORIALS • NEWS ARTICLES • NEWS FOR RESIDENTS • ABOUT CONCERNED RESIDENTS • TOP OF PAGE